The Teacher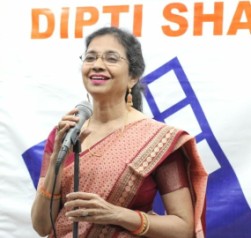 Mrs. Dipti A. Shah
MA (English), US
Mrs. Shah holds a double master's degree in English from both Gujarat University and Georgia University, US. She has also been a student at C.N. Vidyalaya and St. Xavier's College. She has had a brilliant academic career and has won many trophies and prizes in interstate elocution competitions, debates and radio discussions. She visited Japan under Indo-Japan Student Exchange Programme.
Mrs. Shah spent 7 years in the US, where she studied under Rotary Scholarship and taught English to foreign as well as American students for some time. She has taught conversational English at St. Xavier's Language Institute. Mrs. Shah has also served as a lecturer at Bhavan's Arts and Commerce College and as a visiting faculty at Foodcraft Institute in Ahmedabad. She is an accomplished public speaker and has conducted public speaking seminars for professionals.
Dipti Shah's Institute of English, Public Speaking & Self-Development has helped more than 10,000 students, housewives, professionals and businessmen to overcome their fear of English since 1981. Many of our students have gone to foreign countries to study and settle there, while many have thrived in their higher studies, businesses, and professions in
india.
---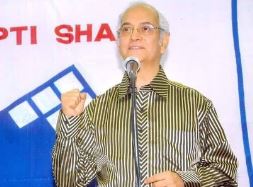 Mr. Amit R. Shah
MS (Elect.), MBA, US

Having stood first in Gujarat SSC Board in 1967 from Shardamandir Vinaymandir, Ahmedabad, Mr. Shah studied pre-university science at St. Xavier's College in Ahmedabad and acquired his BTech in Electrical Engineering at IIT, Bombay.

After working for 11 years, he retired from the post of Executive Director (Marketing) of Inductotherm (India) Ltd. in 1991. He has trained hundreds of salesmen all over the country and conducted numerous sales and motivational seminars at prestigious institutes and corporations, like Ahmedabad Management Association, E + L (India), Core Healthcare, ATIRA, Gujarat Steel Tubes, Torrent Pharmaceuticals, Cincinnati Milacron, Paras Pharmaceuticals, Transformers & Rectifiers (India) in Ahmedabad. Other companies where he has held seminars are ATE in Bombay and Coimbtore, Standard Batteries in Bombay, Gujarat Hi-Rel Controls and Mafatlal Micron in Gandhinagar, GEC Alsthom, etc.

Mr.Shah is an avid reader, a profound thinker, and a mesmerizing speaker and motivator.
---